This weekend I got really challenged to look at life and quit seeing the road blocks but instead see that that mountain gives you an advantage point to look beyond and shine a light to others…. Me who easily complains that I cannot walk too far, leave alone walk in the sun, me whose easily discouraged when things don't happen as I would like them to, or at the pace I would like.
My challengers were not from well known people, or personalities that pull crowds with their mere thoughts and life titbits, my challengers were a rag-tag group of people brought together because of their frustration with watching loved ones die due to at times something as simple as lack of transport to go to a health care provider to get wound dressing or antibiotics. Family members who are forced to make hard choices of selling their little wealth and property to try safe the lives of a loved one, a father, a brother, a child,a mother, an aunt or uncle.
A group that does not have much but are so rich in spirit that they have decided enough is enough and are walking from Kisumu to Kilifi with one main agenda. To raise awareness on the scourge that cancer is becoming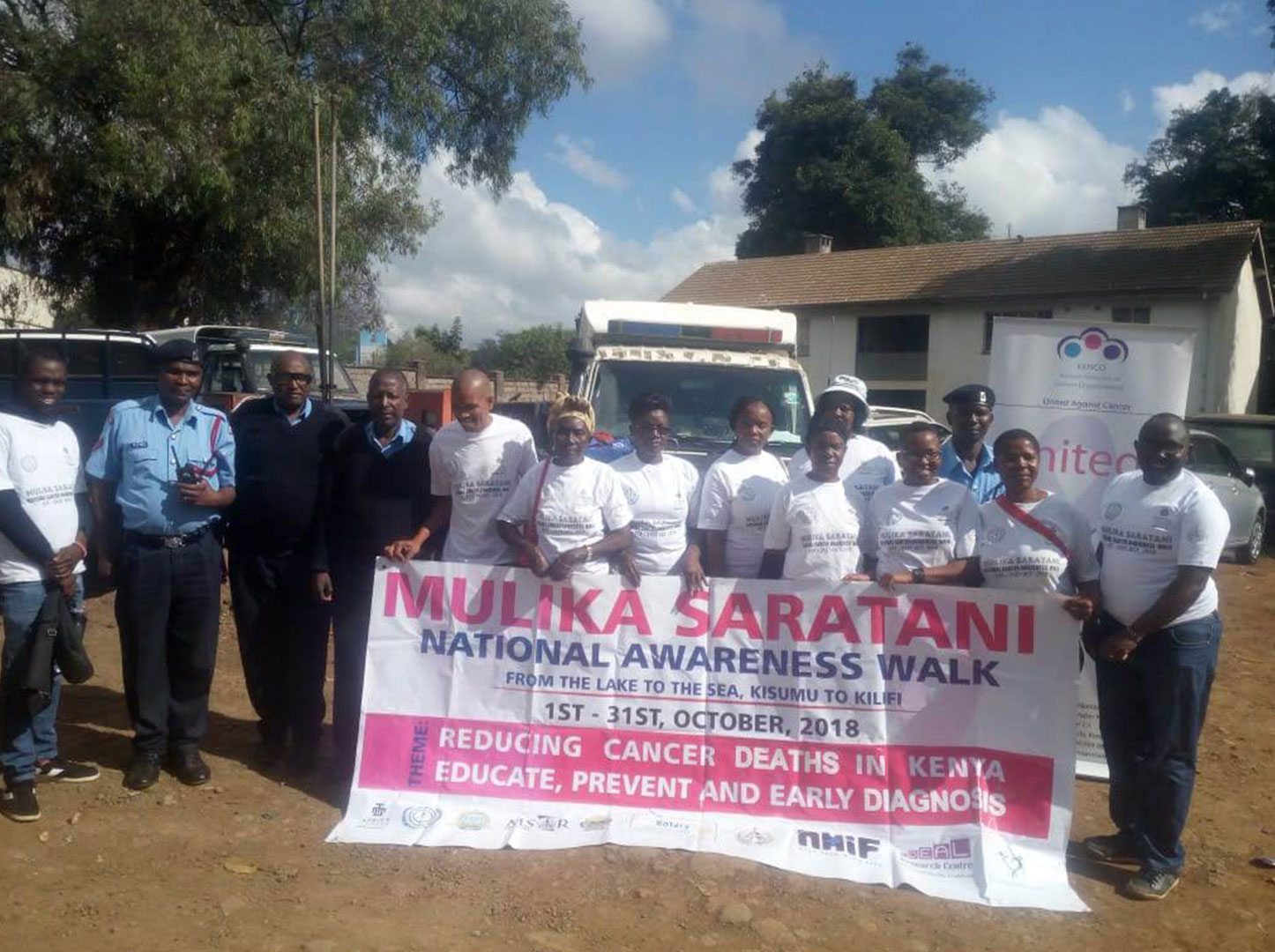 A group that hopes to show that cancer is no respector of class, age, gender or tribe. A group that hopes to bring the message that if we need to become proactive in our homes. Eat right, grab that carrot instead of a crisps. Hand over that apple instead of mandazi. Go in for that regular check up so that we are not doing too little too late.
A group that is walking from one end of the country to the other…from Kisumu, to Kpasabet in Nandi county to Eldoret in Uasin Gishu county to Nakuru, to Naivasha, Limuru and now in Nairobi. We escort them off today as they walk on to Machakos, Makueni- Sultan Hamud,Voi-Taita Taveta, Mombasa and finish up at Kilifi with a major event that involves screening and advocacy.
At every stop, they are making courtesy calls to the various Rotary clubs, departments of health, cancer wards, county referral hospitals and civil societies hoping to unite all the different voices together and build a strong network that's able to support those afflicted by cancer …and more importantly prevention initiatives through educationand early diagnosis.
The most amazing gem to this walk is that the police department has come out in such strong support across all the counties. Offering food and accommodation in some of the counties and escort into the next county.
If you can. Please let's come out in strong numbers to receive this little group of soldiers. Let's show them that yes, we too are taking control of our lives, we too are touched by cancer, we too are not playing victim and are taking control back, we too are holding hands for a common good, we too are making choices to be proactive in our food and lifestyle choices. We are choosing to bring back the dignity taken away by cancer.
My challengers were a group of men and women, some of them over 50 years, some of them touched by cancer directly or indirectly. But they have chosen to walk, to take charge, to fight back and more importantly to build networks…not for their own benefit, but for those they left at home and in their communities who were not able to raise their voices and be heard.